Empress Replication Server
Empress Replication Server provides powerful features that allow users to distribute data from one source to one or more targets.
Empress Replication is a process of creating a set of database tables as replicates (copies) of a single master table and their synchronization to the current state of the master table. Typically, the set of tables lives in separate databases in separate locations.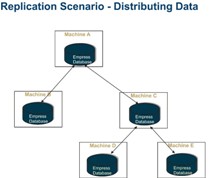 Click on image for larger view
Some of the more important benefits of using Empress Replication Server are:
Higher data availability

Reducing network traffic by using a local copy of data

Off loading data contention between database applications

Distributing system load across multiple locations

Easy recovery from system failures

Automatically providing data copies through a network
If needed Empress Replication can be set to replicate only subsets of data.