With over 30 years of experience in the embedded market, Empress consultants have extended their expertise into delivering smart and innovative mobile solutions for our embedded clients.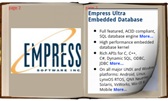 Empress engineers are experts at designing, developing, delivering and maintaining mobile solutions. With first hand knowledge of the integrated and cross platform development environment, you can rely on Empress engineers to deliver first class applications for your mobile units.
Empress specializes in application development that requires database, network and security for customers on iOS, Android and Windows Mobile.