" After we saw the immediate performance improvement over the open source databases, we were sold."
Aaron Smith, Chief Technology Officer, Proliphix.
Empress Database Embedded into
Proliphix Energy Monitor and Control Solutions
Proliphix Slashes Rising Energy Costs

Rising energy costs are spurring consumers, both commercial and residential, to seek better, more efficient ways of managing and controlling energy usage. Proliphix, an innovative manufacturer of inexpensive Internet-managed energy monitoring and control solutions, is satisfying this growing demand for greener energy practices with its newest series, the Uniphy Internet Managed Energy Control Solution (ECS). Proliphix is successfully using the Empress Embedded Database in its Uniphy family of network thermostats and remote management solutions to keep track of energy data.
Energy monitor and control systems are increasing in sophistication as forward thinking manufacturers like Proliphix integrate smart technology into their systems. Looking for an ultra reliable, small footprint embedded database management system that they could cost-effectively embed into their system, Proliphix chose the Empress Embedded Database.
Empress Beats Open Source Databases

"Our company used two open source database software options for a new product line before discovering the Empress database. Our previous databases could not provide the performance we required without a lot of hand tuning of code, which was a maintenance nightmare. We chose Empress for its ease of use and minimal learning curve. Empress support was there every step of the way and allowed us to get a test implementation running within a week. After we saw the immediate performance improvement over the open source databases, we were sold," comments Aaron Smith, Chief Technology Officer, Proliphix. "Empress delivered a custom installation tailored to our Arm embedded product within weeks after the initial evaluation period. In addition, their support team provided a performance review of our database schema, which allowed us to significantly reduce our product's boot time. We are very pleased with the Empress product, even more so the support of the product."
Proliphix + Empress = Significant Cost Savings

The Proliphix Uniphy family of network thermostats and remote management solutions deliver the features and benefits of a sophisticated energy management system for not much more than the price of a conventional programmable thermostat solution.
"Proliphix and Empress share a common commitment to deliver solid, sophisticated solutions at a fraction of the cost of similar solutions," states John Kornatowski, president of Empress Software. "Empress is pleased to work with Proliphix, an environmentally conscious company that is shipping low cost, green energy solutions worldwide."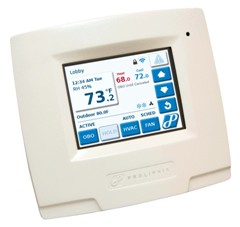 The Proliphix Uniphy Internet-Managed Energy Control Solution (ECS) is a sophisticated yet inexpensive energy management solution designed for the small facility owner or operator. The Uniphy ECS provides remote HVAC system monitoring and control for one or all facilities in an enterprise. Uniphy ECS is ideally suited for light commercial facilities that require comprehensive energy control at a fraction of the cost of conventional energy management systems. Small business owners and operators are able to experience aggressive, rapid returns on investment most often in less than a year.
Smart, Scalable Technology

Proliphix's Uniphy products connect natively to the enterprise data infrastructure and communicate to the Proliphix-hosted software application. Large enterprises with multiple small facilities, can efficiently manage their systems, process equipment and refrigeration units from a single, unified interface from anywhere in the world. Uniphy uses Empress Embedded Database to monitor and store temperature data.

The Uniphy Commercial Series Network Thermostats are intended for commercial applications such as schools, food service industry, retail, franchises, chain stores and other facilities where operators are looking to improve HVAC management plus monitor external and control additional equipment. The Commercial Series features external sensor inputs for independent equipment monitoring and control. Communication from the Commercial Series hardware is either via an Ethernet Internet connection or wirelessly via WiFi. The IMT550c/w also offers relative humidity sensing and control.
Hardwired Ethernet Connection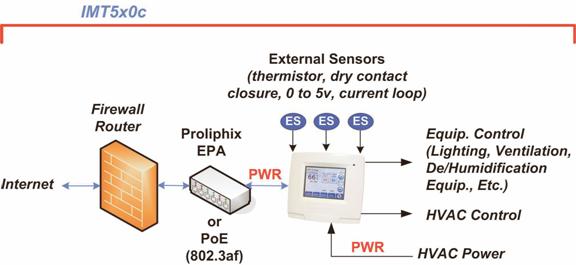 Proliphix Uniphy Commercial Series, Internet-Managed Thermostat features include:
* Supports 3 external wired sensors
* Independent sensor alarm capability
* Dual stage fossil fuel and heat pump (w/aux heat) systems
* Economizer Control
* Adjustable Setpoint Dead Band
* Keypad Lockout
* Fan scheduling
* Auto changeover
* Reliable TCP/IP communications
* Web Browser control
* Email & text alarm reporting
* 366 day programming
* Four temperature periods per day
* 5 year scheduling
* Vacation and special day schedules
Wireless Ethernet Connection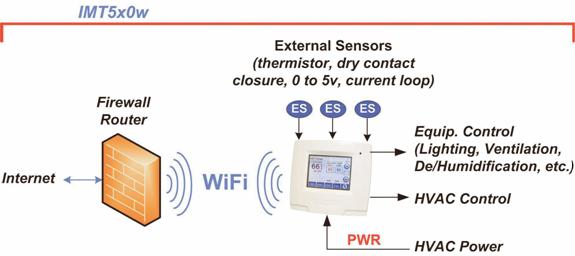 The Commercial Series Network Thermostats take full advantage of wired and wireless Ethernet technologies and the Internet to leverage the business network infrastructure for comprehensive HVAC system and energy management. The Proliphix Commercial Series with is compatible with typical HVAC systems and offers all the features expected by commercial installers and system integrators. The Proliphix Commercial Series with Empress also includes advanced alarming, sophisticated HVAC control and versatile sensor capability.
Eco-Friendly Solution

As energy costs rise and budget numbers fall, the necessity for energy conservation to reduce costs takes center stage. The Uniphy energy control solution allows users to remotely monitor and program the thermostats, significantly improving the ability to monitor and control energy usage. With Empress database embedded inside, Proliphix Network Thermostats help consumers and businesses reduce environmental impact by conserving energy, reducing fuel costs, and cutting greenhouse emissions.