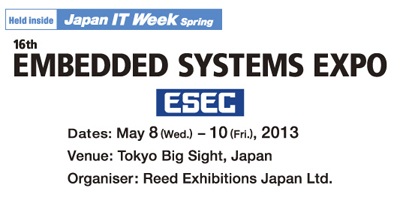 Join Empress Software at the 16th Annual Embedded Systems Expo 2013 (ESEC) at the famous Tokyo Big Sight in Tokyo, Japan on May 8-10, 2013. Empress Japan is proudly partnering with Ryoyo Electro and will unveil a new M2M data solution at ESEC. Stop by and learn more at the Intel booth 9-1 and the Microsoft booth 11-16, both in the West Hall. Empress will be presenting at the Microsoft stage on Wednesday, May 8 at 13:00 and Friday, May 10 at 10:30.

ESEC is one of the 11 IT shows taking place concurrently at "Japan IT Week Spring". With over 1500 exhibitors and an expected 85,000 visitors, this is truly Japan's biggest trade show.

ESEC is the largest embedded systems exhibition in Asia attracting worldwide participation from software, hardware and components to systems integration and development platforms. ESEC Japan is recognized as the most important exhibition among designers and developers to discuss concrete details of the best solutions and achieve good business outcomes.

Empress Software is the leading provider of embedded database technology and for over 30 years we have provided lower cost, higher reliability, richer functionality products for embedded applications. EMPRESS Embedded Database runs on all major Linux, Windows, and real-time operating systems including Android, eT-Kernel from eSOL, μITRON, Linux, VxWorks and QNX.