For Immediate Release
Editorial Contact:

Network Programs Japan and Empress Software Partner to Provide Embedded System Solutions
Beltsville, MD, November 28, 2006 - Empress Software and Network Programs Japan announce a new partnership with a mutual vision to provide the best and most in-demand Empress Embedded Database Solutions to Japanese and worldwide customers. Empress Software is the developer of the EMPRESS Embedded Database, a powerful, feature-rich relational database management system especially designed for embedded and real-time applications. Network Programs is a pioneering software development services company, outsourcer and provider of contact center solutions. Empress Software and Network Programs Japan are both innovators in the embedded systems arena, committed to providing advanced embedded system solutions across industries including automotive, networking and telecommunications, consumer electronics and much more.
"Empress Software and Network Programs Japan customers can now leverage the extensive embedded systems expertise and experience that each company has to offer," states John Kornatowski, president and CEO of Empress Software. "This partnership will result in the development of new, sophisticated embedded solutions by Network Programs Japan that take advantage of the fast, small-footprint, maintenance-free qualities of the EMPRESS Embedded Database."
"There is a growing demand from embedded devices developers for reliable, faster, small-footprint embedded database applications. Network Programs Japan and Empress Software can fulfill this demand through products from Empress and quality led services from global pool of engineers from Network Programs," states Samir Lahad, Managing Director of Network Programs Japan.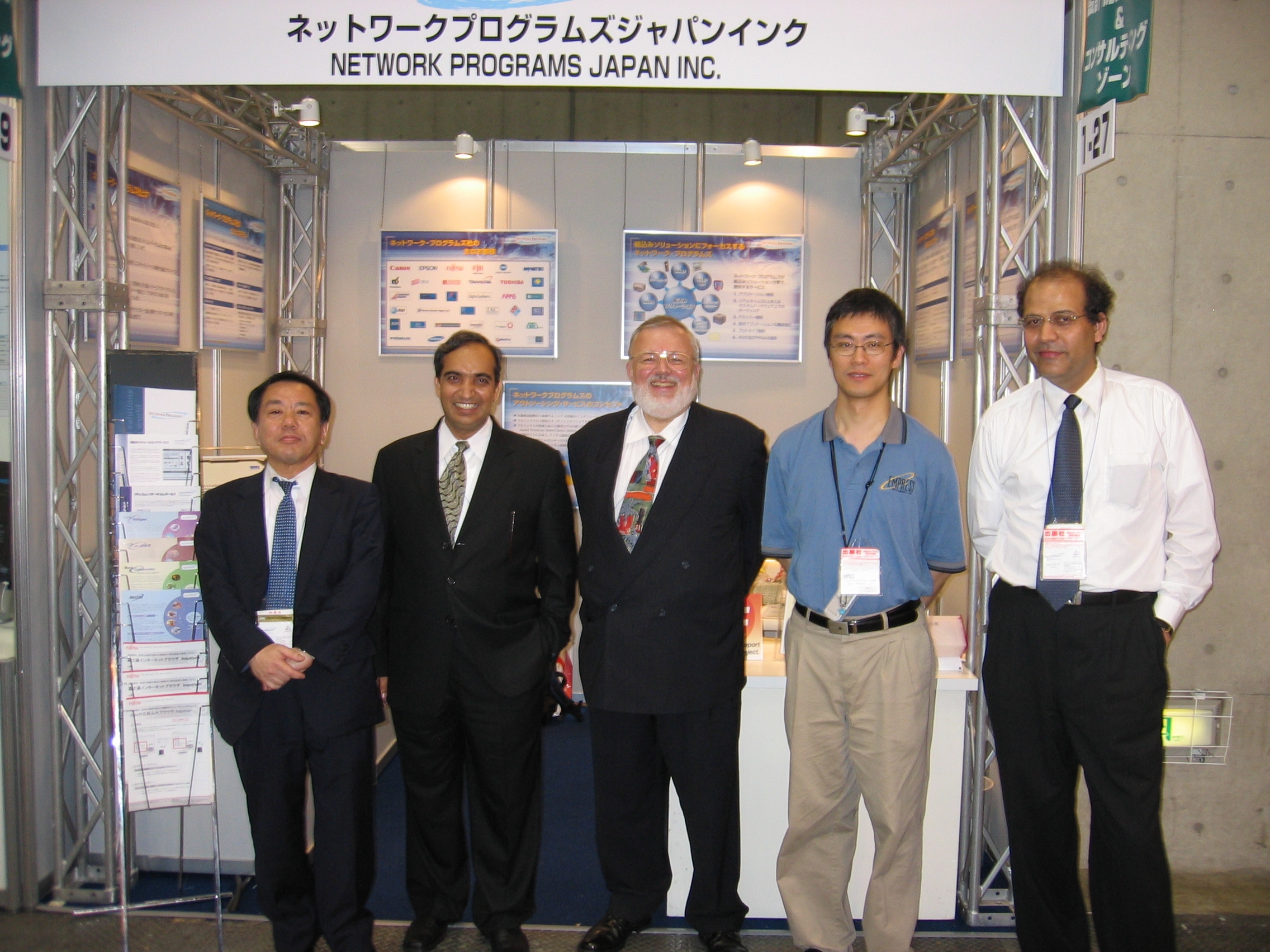 Empress President John Kornatowski and David Zhang meet with Network Programs Japan President Vipin Tyagi and NPJ Staff
About Empress Software, Inc.
Empress Software develops and supports the EMPRESS embedded real-time data management system. EMPRESS Embedded Database is a full-featured, high-performance database engine especially designed for developers operating on UNIX, Linux, Windows or real-time environments. Empress has been utilized successfully in diverse fields including image & voice management, networking, telecom, military & defense, process control, automotive and data acquisition. For more information, please call 301-220-1919. Check our web site at www.empress.com or send e-mail to info@empress.com.
About Network Programs Japan
Network Programs Japan was started in Japan in 1995. The parent company, Network Programs, develops software technology used in communications networks, contact centers and consumer electronics. Network Programs solutions cover a wide range of software development services, both onsite and offshore, provided to the telecommunications, electronics and business process outsourcing (BPO) industries. Network Programs Japan provides end-to-end productization solutions combining hardware, software, product development, verification and implementation. For more information, please call +81-3-3535-8591. Check our web site at www.networkprograms.jp or send e-mail to lahad@networkprograms.jp

Empress Software Inc.               Empress Software Inc.
11785 Beltsville Drive              3100 Steeles Ave East
Beltsville, MD 20705                Markham, Ontario, Canada
Phone: 301-220-1919                 Phone: 905-513-8888
Fax:   301-220-1997                 Fax:   905-513-1668
www.empress.com                     www.empress.com
info@empress.com                    info@empress.com