For Immediate Release
Editorial Contact:

Empress Conference in Tokyo Held by Empress Software and ID Science
Tokyo, JAPAN, October 31, 2006 - Empress Software, developers of EMPRESS, "The Embedded Real-Time Database", and ID Science Inc held a special Empress Conference in Tokyo, Japan on June 8-9, 2006 at the Tokyo Garden Place. The central topic of the Conference was embedded database technology and how it fits into the unique Embedded Technology market requirements of Japan, a rapidly expanding growth market in Japan.
Kay Tochimoto, Chairperson Emeritus, TK (Takachiho-Koheki) and Member of the Board of ID SCIENCE was the driving force behind the exclusive, by invitation-only Empress Conference.
Empress Conference guest speakers, Dr. Shigeyuki Ohara and Dr. Hiroshi Monden, made presentations and had discussions that included outsourcing specific embedded software development tasks without compromising quality and corporate intellectual property, the skill sets among Embedded Developers needed to accomplish that and how to measure them, the trend to globalization in outsourcing and the use of Embedded Database Technology as a key Embedded Technology building block.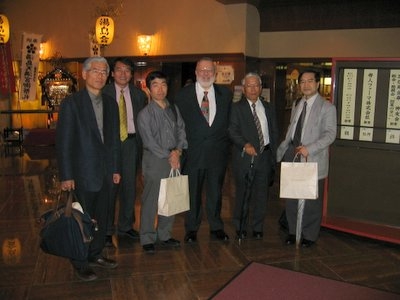 Empress Conference guest speakers and participants
About ID Science Inc.
ID Science Inc, located at 1-12-4 Yushima, Bunkyo-ku, Tokyo, 113-0034, sells and supports the Empress Embedded real-time data management system in Japan. The ID Science technical support team provides high caliber, expertise, knowledge and support of the Empress Embedded database. For more information, call 03-3831-3698 or fax 03-3837-3244 or email support@idscience.co.jp
The ID Science web pages are at http://www.idscience.co.jp
About Empress Software, Inc.
Empress Software develops and supports the EMPRESS embedded real-time data management system. EMPRESS Embedded Database is a full-featured, high-performance database engine especially designed for developers operating on UNIX, Linux, Windows or real-time environments. Empress has been utilized successfully in diverse fields including image & voice management, networking, telecom, military & defense, process control, automotive and data acquisition. For more information, please call 301-220-1919. Check our web site at www.empress.com or send e-mail to info@empress.com.

Empress Software Inc.               Empress Software Inc.
11785 Beltsville Drive              3100 Steeles Ave East
Beltsville, MD 20705                Markham, Ontario, Canada
Phone: 301-220-1919                 Phone: 905-513-8888
Fax:   301-220-1997                 Fax:   905-513-1668
www.empress.com                     www.empress.com
info@empress.com                    info@empress.com