Join Empress Software at


DiS x Android 2011
Akihabara Building, Tokyo, Japan
January 25, 2011
1

Come and join Empress Software at the DiS x Android 2011 show at the famous Akihabara Building in Tokyo, Japan, Exhibit Hall 2F on January 25, 2011 from 10AM to 5PM.
To address the rapid growing mobile computing market using Android, Empress will feature a demonstration of Empress Embedded Database's powerfull features on ONKYO's latest Android tablet.
Empress Software is the leading provider of embedded database technology that allows application developers and system integrators to provide lower cost, richer functionality products with accelerated time-to-market capability to meet constantly evolving market demands. EMPRESS Embedded Database runs on all major Linux, Windows, and real-time operating systems including Android and VxWorks.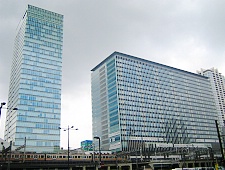 Akihabara Dai Building & UDX Building, Tokyo, Japan